medisana荣获German Brand Award 2023|蝉联德国品牌大奖"六联冠"!
German Brand Award 2023: medisana honoured for excellent brand leadership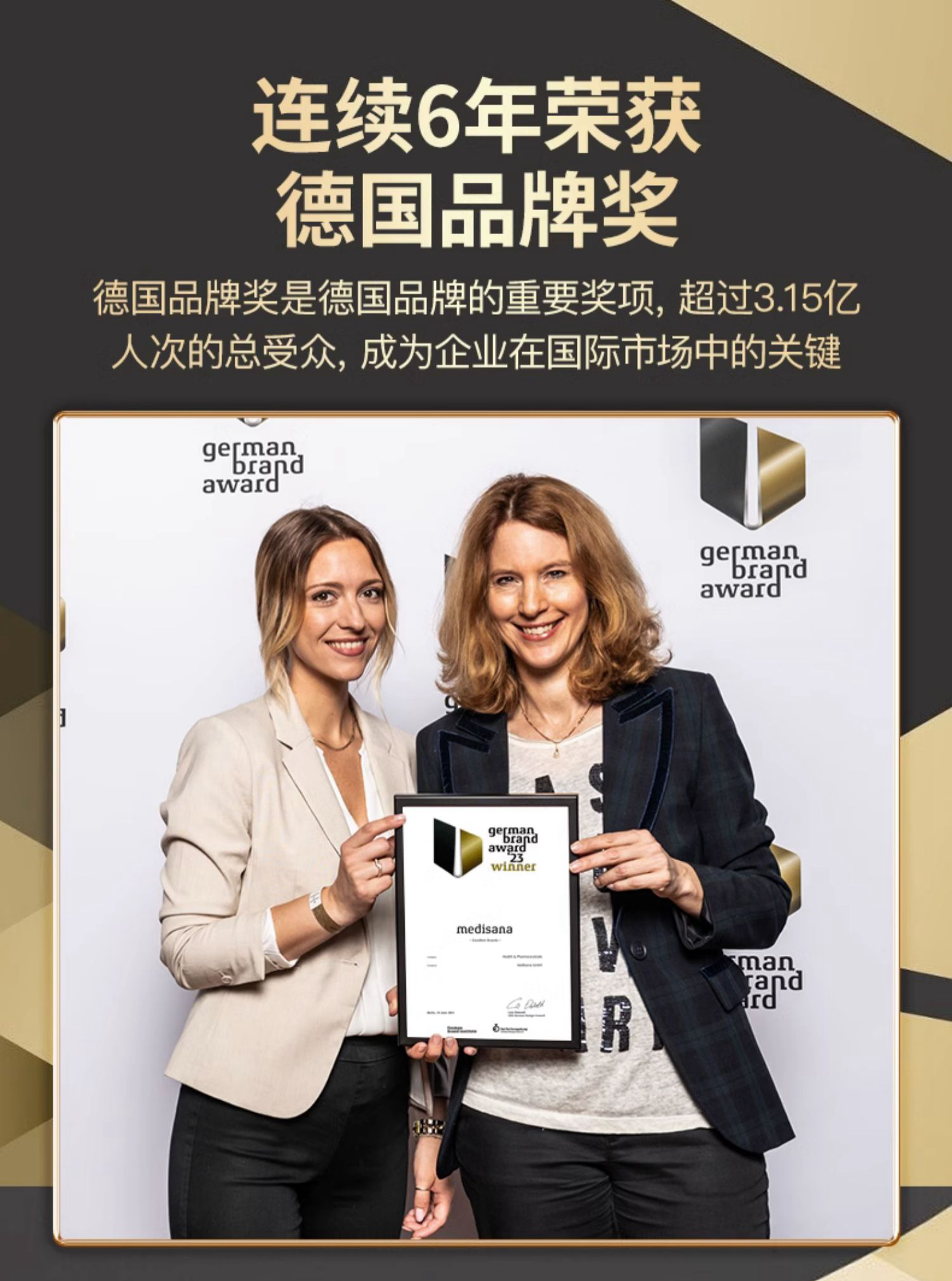 Neuss, 22.06.2023. For the sixth time in a row, medisana has been singled out to receive the German Brand Award 2023 for its excellent brand management. The prestigious German award recognises successful companies that stand out from the competition through their exemplary brand management, sustainable campaigns and exceptional marketing projects. Entry is open to companies, agencies, service providers and marketers, as well as noncommercial and governmental organisations from all industries worldwide. An independent jury of experts decides whether applicants are eligible to enter the competition. medisana has repeatedly impressed the top-class panel of experts with its innovative strength and outstanding brand management work. medisana was singled out in the category "Excellent Brands – Health & Pharmaceuticals". As an expert in healthcare products, medisana regularly establishes new trends for the wellness and healthcare markets. Thanks to its holistic health expertise, the Neuss-based company sees itself as an innovative and future-oriented brand with an eye for current market trends and new products, helping an ever-growing number of people to take their health and well-being into their own hands. "People's health is a topic very close to our hearts. It lies at the core of our brand promise. So we are proud to have won the German Brand Award again for our brand strategy. A large part of this success is down to our more than 41 years of market experience and medisana's dedicated team. Being chosen again by the expert jury is confirmation for us that we have established ourselves as a trustworthy brand in the health and wellness market," says Anja Schimmelpfennig, Marketing Manager at medisana. The German Brand Award is used by the German Design Council and the German Brand Institute to honour successful brands for their excellent brand management. Its aim is to strengthen the importance of branding as a decisive corporate success factor in the national and international competitive environment. The award recognises brands in a holistic, wellfounded and neutral manner, and thus highlights successful branding in a unique way. The German Brand Award's criteria and categories take into account the many facets of professional brand management. Even being nominated for the award is an honour, because only companies that have been selected by the German Brand Institute, its brand scouts and expert committees can participate. This process ensures the independence and excellence of the award. Find more informationat www.german-brand-award.com.
medisana - Winner Health and Pharmaceuticals (german-brand-award.com)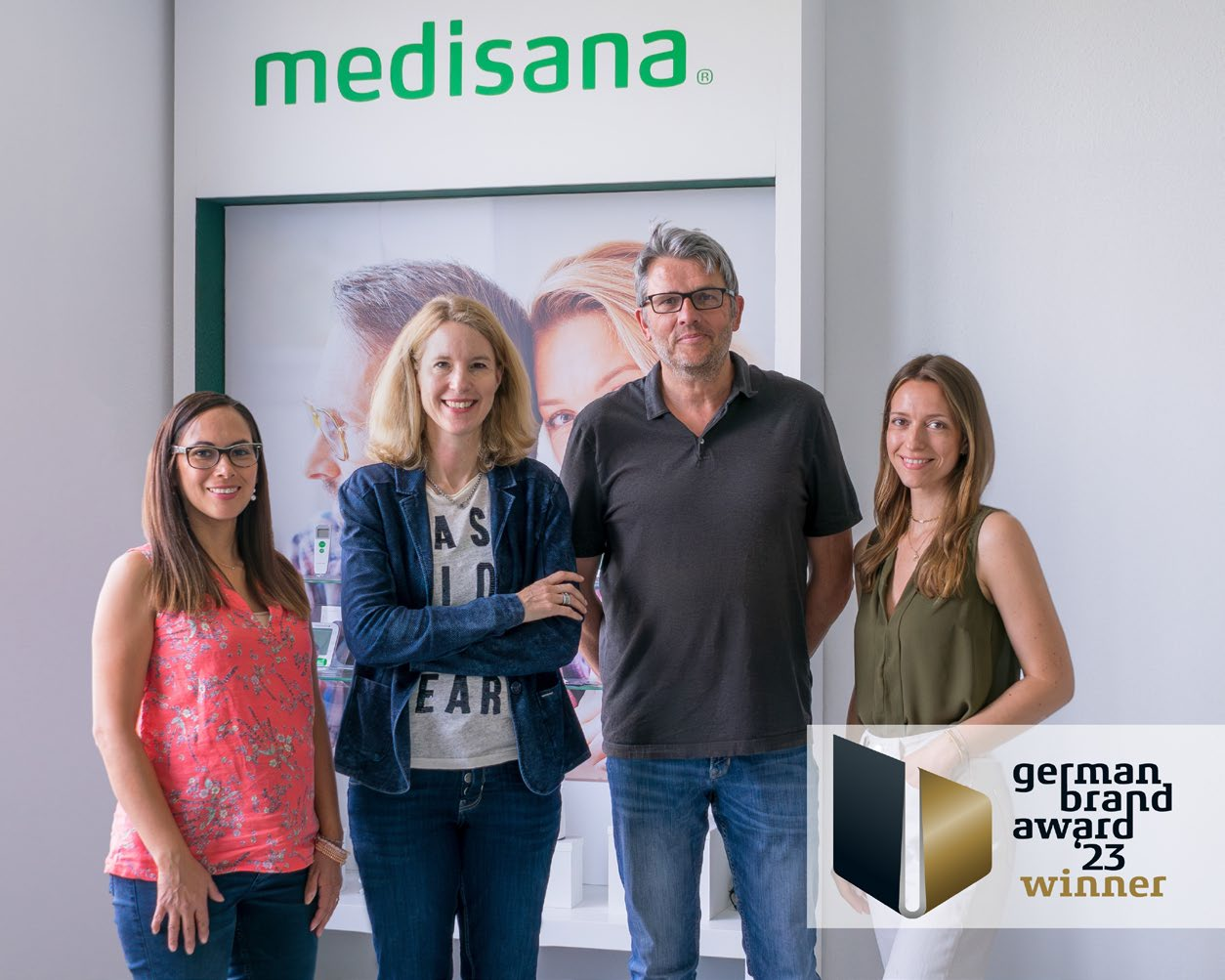 Fiorella Leines, Anja Schimmelpfennig, Stefan Pütz-Cordes, Ricarda Domnik (f.l.t.r.)
medisana is one of the leading specialists in the home healthcare market. For over 41 years, the German company has been dedicated to the health of people with the motto "Your health in good hands." medisana is a pioneer in the trend of mobile health management and provides future-oriented products for modern everyday life in an increasingly networked world. The Neuss-based company is one of the leading manufacturers in the massage sector. medisana develops, markets and sells products related to mobile health, health monitoring, wellness, personal care, therapy and healthy homes to health-conscious consumers around the world.